mcsSprinkler (Professional) Software Plug-In for HS3
Description:
mcsSprinklers is the premier integrated commercial / residential irrigation control package that uses readily-available personal computer resources to provide water-saving smart irrigation control  an installation.
It takes advantage of internet technology to obtain current environmental conditions as well as forecast data from which projected rainfall and evaporation is determined.
It uses the Rain8 family of valve controllers  to provide control via the existing powerline, wired to the PC, or wireless. It also supports integration with Homeseer and xAP to augment the family of valves that can be controlled and further integration with other aspects of automation.
 Requirements
Compatible with Windows only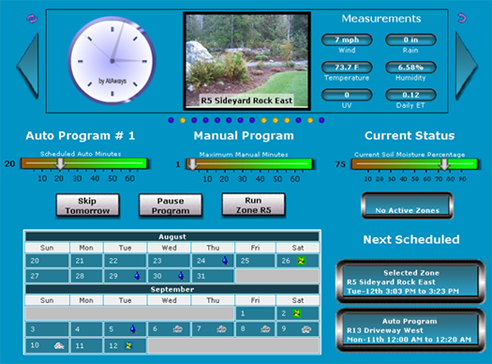 Capability Levels:
Basic ($29.95)
The Basic level (mcsSprinklersB) is designed to perform manual and automatic timed control of up to 24 valves for all of the Rain8 family of modules or Homeseer-controlled devices.  It's capability are approximately equivalent to a 24 program timed irrigation controller with the added benefit of desktop and internet access to provide for easy viewing and alterations of the schedules. It provides a rich user interface including graphical, touchscreen and the ability for remote valve control with PDA or X10 palmpad.
Standard ($89.95)
The Standard level (mcsSprinklersS) is designed to achieve water cost savings and provide a rich set of control options. It takes into account weather conditions based upon internet data to both schedule when added moisture is needed and to not schedule due to wind and rainfall conditions. It provides visibility into historical valve activity and other parameters related to irrigation scheduling as well as all the features of mcsSprinklers Basic.
Professional ($149.95)
The Professional level (mcsSprinklersP) is designed for maximum customization and options. It supports active backup and email notification when attention is needed.  Recordkeeping is enhanced with water use accounting and a more complete historical calendar.  Additional control for fertigation, use of moisture probes, and more flexible zone sequence control is included.  Integration with other automation is provided with direct weather station interfaces, IP-based control, and xAP messaging.  Support for the non-typical setups is provided in a unified manner that makes the complexity transparent.  Includes all features available with the standard version.
Comparison of Features by Level
---
---
We Also Recommend